Brand New Day
Brand New Day, formerly known as Universal Care, has been offering Medicare programs for over 35 years. Modera provides a variety of services for Brand New Day, including Search Engine Marketing, social media advertising and community management.
Brand New Day offers services in 12 California counties, and digital advertising efforts are segmented per county. Digital ad campaigns are further targeted by age, language, and interest, depending on the platform.
During the Annual Enrollment Period (AEP) 2018, Brand New Day hosted a series of free seminars at local area senior centers, recreation centers, health clinics and restaurants. The goal of each seminar was to provide free information to Medicare-eligible seniors, increase brand awareness, and encourage enrollment in Brand New Day. To maximize attendance, Modera grouped seminars into Facebook Events and advertised these to local communities.
Below we detail the success of one particular event group in Fresno County, and the digital strategies that allowed Modera to achieve a 47% Facebook advertising conversion rate, leading to an impressive enrollment season for Fresno county, which accounted for 37% of Brand New Day Sign Ups.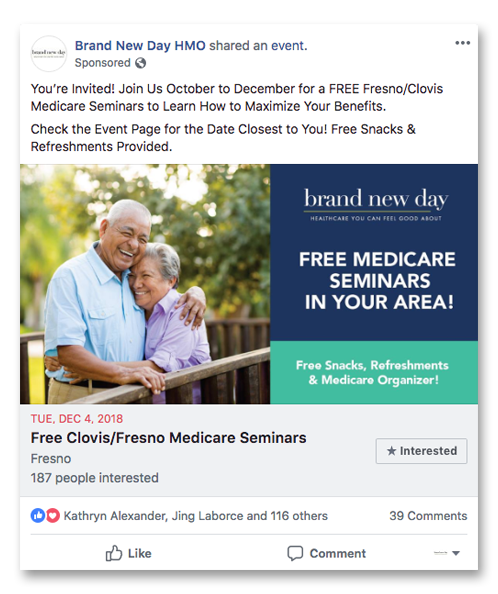 Modera's targeting methods allowed Brand New Day to reach high-intent customers in Fresno County. Unlike some ads that specifically target 65+ users (Medicare eligible), event ads included 45+ Facebook users to encompass caretakers and adult children of Medicare enrollees.
Brand New Day Medicare events took place in all reaches of their service area, but Modera matched census data with event schedules to plot optimum areas for event segmentation.
Although the marketing budget could not stretch for all events, Modera targeted a 7-mile radius that included over 50 events in the heart of Fresno, with a potential reach of 150K.
Results
Over the course of 1 month, Fresno events garnered a total reach of 26K and 318 RSVP's. Fresno events had some of the highest attendance of any Brand New Day seminars thanks to high performing digital ads.
Due to the complex nature of Medicare, Modera also managed community engagement on Brand New Day's Facebook Page. Facebook Ads and Event pages became a forum for questions and reviews, with unsolicited testimonials filling comment sections.